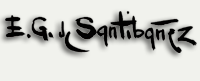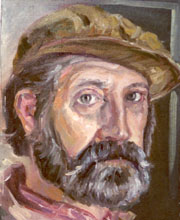 Tel: +34 638 232 292 santibanezart@gmail.com
MINIMALISM THEMATIC Recent atwork
The greatness of his rich life experience has inspired new interests and he attempts to seek new pictorial experiences; he wishes to concentrate his extensive knowledge into a minimalism which is the "quintessence" of everything that he has experienced.
An artwork which reflects the painter's heartbeat, its subject is minimum and secondary; where language is vibration, subtle and profound, a painting felt millimetre by millimetre which begins to acquire identity, seeking the essence itself.
One must have a long lifetime of experiences as a painter in order to achieve and attain a consistent artwork with this simplicity. All of his knowledge and experiences have been concentrated into something very subtle, by means of a deep emotion.
Santibáñez works cleanly, free and without prejudice, without preconceived ideas. He is very attentive of what he is doing in order not to miss any of the splendid wonders that can emerge so that he can transmit this profound emotion and capture it in the canvass, so that it can spill forth into others.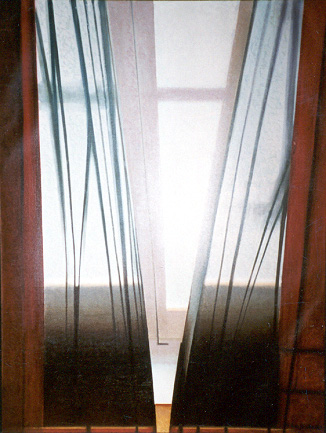 Minimalism
FORMS IN SPACE 1972-1995
This extensive work which most characterises him is an absolutely personal creation in terms of subject and execution.
The topics are searches for weightless compositions whose stability is found in the emanation of its own energy, the colour, the harmonious movement, the tensions, force and dynamism; coinciding with the moment in which he has started to glimpse the knowledge which humanity now has about the universe and the evolution of matter, forces and cosmic dimensions, as well as the architecture in space which will soon commence.
As Teilhard de Chardin stated, "In the cosmic scale, only the fantastic has possibilities of being true".
Untitled artworks which do not interfere with the spectator and which reflect this fact, the truth of the canvass is the truth of what the spectator receives from it, which is consequently different in each person.
The backgrounds of these works are as chromatically rich as the topic, since Santibáñez views a cosmos full of light and particles, this entire cosmos not interpreted by a scientist but by an artist who receives sparks of inspiration from this knowledge.
These artworks were exhibited in Rottenburg, Balboa 13, Sammer Gallery (Madrid), and in other zones in Spanish territory, as well as in France, Germany, and Panama.
These subjects are emphasized in diverse sculptural projects and murals created by the artist in steel, rock painting, and ceramics. Corporeal artworks, sculptures, and bas-reliefs such as the public artworks that form a part of current urban development, as highlighted by the 18 artworks which he created for the Metro of Madrid.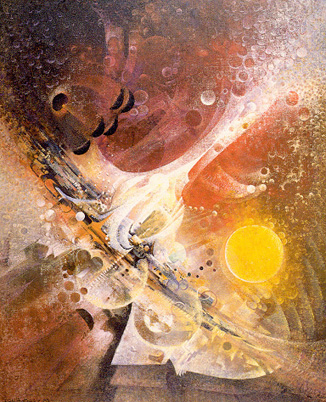 Forms in Space 4
MONOCHROMATIC STYLE 1970-1972
He reached a moment in which he considered as an interesting "cure", a discipline in colour and he painted monochrome works based on earthy colours and metals especially in the expression of their textures, thus completely separating from the familiar subjects in order to approach cosmic rhythms, movements of forces, and the compensation of energies.
His artworks were exhibited in Durán (Madrid), in Posgrunn and other cities in Norway.
In this period, he began the study the encounter between paper and oil in monotypes, deepening and achieving textures which are not possible to achieve in any other way; subsequently, he complemented this oil-paper encounter with wax to create compositions with a truly beautiful effect. These subjects will be the prologue of the immediate stage.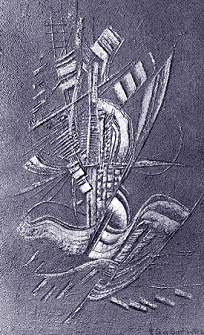 Monochromatic Style 2
FIGURATIVE ABSTRACTION 1964-1970
Santibáñez underwent a period of crisis, change and hard search without a clear idea of where he was going; which was based on a great deal of hard work and effort, until something was finally produced. As he states, "If I knew what I was searching for, perhaps I would understand what I find"; it was necessary for him to be a spectator of his own work to see his own possibilities.
Little by little, he was liberated from the strictly figurative style in favour of values of composition and the aesthetics of artwork, where he used more pictorial material and textures as expression.
He continued to bases his structures in familiar subjects: Still-lifes, figures, and landscapes, but now, as a pretext to paint a canvass.
He makes an abstraction based on these subjects, highlighting above all the language of the texture, the composition, and the colour. He has never practised pure abstraction, there has always been an interrelation between abstraction and figurative art, where he never allows himself to become trapped in one style, because his intention is to be free to imagine and compose, in service of a harmony which is always aesthetic.
They are very luminous and vibrant creations with heavy paint strokes, "Mitigated Neo-realism" according to Carlos Arean.
He has exhibited these works in Neblí (Madrid) and in other locations in Spain as well as in Colombia in a permanent basis in the National Museum of Bogotá and in the ZEA Museum in Medellín.

Figurative Abstraction 1
FIGURATIVE ART 1950-1964
The origin of his artwork began with figurative or classic paintings. He learned to draw in Burgos and was inspired by the great master painters of the El Prado Museum, the graceful style of Goya, the mastery of Velázquez, and the plasticity of Ribera.
Profound apprenticeship, seeking and soaking up the substance in the streets of the humanistic spirit of its people.
Santibáñez based and founded his future evolution in figurative art as an apprenticeship of technique, the use of colour, and the knowledge of different materials.
From this personal perspective that he sees and possesses, he began to pursue his interests, to seek and realise that he had to evolve in order to contribute something new and personal in painting.
He moved to Paris and was nourished by all the bustling artistic activity of the city. Upon his return to Madrid, he continued his search and work.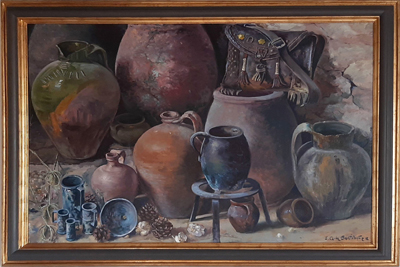 Figurative Art